Marina Di Chiavari Calata Ovest - Marina Berths / Moorings
Marina Berths and Moorings for Sale and Rent – Find your perfect Mooring
Welcome to Marina Di Chiavari Calata Ovest
Marina di Chiavari - Calata Ovest is the ideal place to moor to enjoy the spectacle of the Gulf of Tigullio, the picturesque stretch of coastline overlooking the Ligurian Sea, located to the east of the Gulf of Genoa. Bounded by Punta di Portofino to the north-west and Punta Manara to the south-east, Chiavari boasts a strategic position: it is a stone's throw from the famous tourist resorts of Santa Margherita, Sestri Levante, Camogli and Portofino, but is also almost equidistant from Genoa and the Cinque Terre, which can be reached by a few miles of sailing. The Marina is centrally located in the elegant town of Levante Ligure, with its prestigious past and lively present. A city on a human scale, Chiavari has an interesting architectural, artistic and natural heritage. In the vast historic centre, among the characteristic streets and squares, shops and restaurants, various events take place throughout the year: the Antiques Market, the Market of Flavours and Traditions, the Festival of the Word.

The town's unique porticoes have remained intact over the centuries and will soon be recognised as a UNESCO World Heritage Site, which is why Chiavari is also known as the 'Town of Porticoes'. The town is also an Episcopal seat and hosts several museums, such as the Diocesan Museum, the Archaeological Museum, the Museum of the Risorgimento and the Chiavari Chair Museum.

There is one colour that is more important than the others at Calata Ovest: green. Protecting the environment is our priority. Since 1987 Chiavari has been awarded the Blue Flag for the high quality of the facilities and services that make the waters of the Marina and the entire waterfront crystal clear.
Marina Berth Mooring For Sale & Rent
View all berth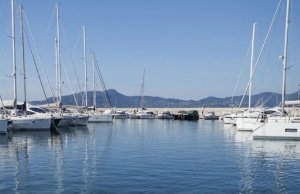 For Sale